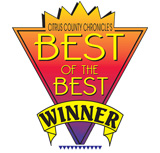 Lic# CGC034206
Model Homes • Custom Homes • Real Estate • Commercial Construction
Lot Evaluation at
No Charge

• CAD Design at

No Charge

• Progress Photos at

No Charge
Quality Home Construction Since 1984
Affordable prices... Personal Service... Wheeler Construction, Inc. has made a name for itself by offering popular home styles at affordable prices.
"We will help you design the best home, with the best features, for the best price."
Citrus County, what a great place to call home! Located on the west coast of Florida and referred to as the Nature Coast, this land is one of the last natural, unblemished sanctuaries left in the state. Numerous preserves and wildlife parks pepper the area, including the world famous Homosassa Springs Wildlife State Park. Others include Yulee State Park, Fort Cooper State Park, and a number of other magnificent local city parks.
Citrus County is still mostly undiscovered by the chaotic outside world. This makes the area one of the most desirable places to raise a family or spend the quiet retirement years. Though the county is growing, it still maintains the quiet, small town charm, safety, and security. With excellent schools, a wonderful natural environment, and plenty of recreations, this truly is a great place to build your new home.
Citrus County is one of the best golfing areas in the state. Countless fine golf courses meander through the area. Some of these world-class championship courses include World Woods, Citrus Hills Golf & Country Club, Skyview, Twisted Oaks Golf Club, Southern Woods Golf & Country Club, Sugarmill Woods Golf & Country Club, and more. And with Florida's mild temperatures, folks can enjoy these courses year round.
Seven major waterways cut through the county, providing excellent boating and fishing opportunities. Lakes pepper the eastern part of the county and are great for jet skiing and water skiing. Many folks enjoy the crystal clean Crystal River and Homosassa River, snorkeling and diving in its crisp waters. In these waters, do not be surprised if you even come across a manatee or two!
Landlubbers will appreciate the beautiful hiking trails that snake through the Withlacoochee National Forest. Here, nature is at its best. With native plants and wildlife abounding, one is sure to leave the forest with a wonderful sense of calm and tranquility. There is also the Rails to Trails bike/walking trail. This paved path covers the same route once taken by a railroad, and is perfect for an afternoon bike ride or jog.
Citrus County is truly one of the last great places in the state. Safe, quiet, and incredibly beautiful, this is the perfect place for young families and retirees alike. Visit Citrus County-your dream home awaits you!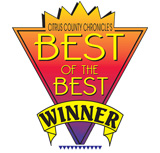 Lic# CGC034206