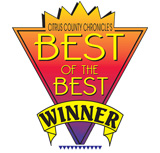 Lic# CGC034206
Inverness
Serving as the county seat for Citrus County, Inverness is the home of the historic "old courthouse". Built in 1912, the old courthouse conjures up images of dime stores, ice cream parlors and grand architecture, some of which has been restored and preserved for future residents and visitors alike.

Recently returned to its former glory, the courthouse now serves as a museum and the centerpiece of a rejuvenated downtown square. Surrounded by fairs, parades, festivals, concerts, arts and craft shows, the old courthouse has seen it all over the past century it has stood watch.

Another great achievement on the Inverness downtown square is the restoration of the Valerie Theatre. The original theatre was built in 1926-27 during the silent movie era. Prices were 10 cents for children and 25 cents for adults. The City purchased it in 2009 and with community involvement a grand reopening was held for the Valerie Theatre Cultural Center in 2015.

Inverness is also home to Whispering Pines Park, one of the largest public parks in the area, it is always alive with activity.

So too is the newer Cooter Pond Park with its ever growing boardwalk and fishing pier. Cooter Pond is also the inspiration for the famous annual Cooter Festival both named for the local Cooter turtles which inhabit the pond.

Old and young alike share in the festivals, food and fun that come with a small town fair-like environment that characterizes Inverness Florida. And don't forget that Inverness is home to the County fairgrounds, hosting the Citrus County Fair each year.

The city of Inverness is made up of many diverse neighborhoods ranging from ancient oak tree lined streets where children still ride bicycles to exclusive waterfront properties and lake front homes on Pritchard Island and Gospel Island.

Surrounded by the Tsala Apopka Lake chain these waterfront neighborhoods are highly desirable and we can help you locate a lake front lot just right to build your home on. With easy access to fishing, boating, swimming, canoeing, kayaking, and all the joys that comes with waterfront living, Inverness offers it all.

And if you want a different kind of excitement, Inverness on the east side of the county is closer to the Turnpike which offers a quick route to Orlando and all that the theme parks have to offer. In just over an hour you can be at any of the Disney parks and resorts right from your home in Inverness.

If you would like to explore more about the historic, yet progressive city of Inverness Florida, contact us today!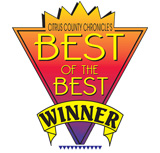 Lic# CGC034206